We help organizations run and transform themselves in a constantly changing world. That's no easy task, but our software makes it possible. It bridges the gap between existing and emerging technologies, so customers can innovate faster, with less risk, as they navigate change. Everyone here—all of us around the globe who build, sell, and support our software—is committed to their success.
Our Business
Across the world, we work with over 40,000 companies — in fact, we are one of the largest software companies in the world. Through the breadth of our solutions, we help each of our customers solve business problems and deliver against the needs and opportunities of Hybrid IT — from mainframe to mobile to cloud.
Micro Focus is a pure-play software company, meaning we have a level of focus that other technology companies don't have. From the ground up, we are built to sell and support software. We provide our customers with a best-in-class portfolio of enterprise-grade scalable software with analytics built in. Our software solutions include Enterprise DevOps Hybrid IT Management, Security, Risk & Governance, and Predictive Analytics.
Put simply, when you join us, you'll be doing work that makes a difference around the globe. Search our opportunities today and find your momentum.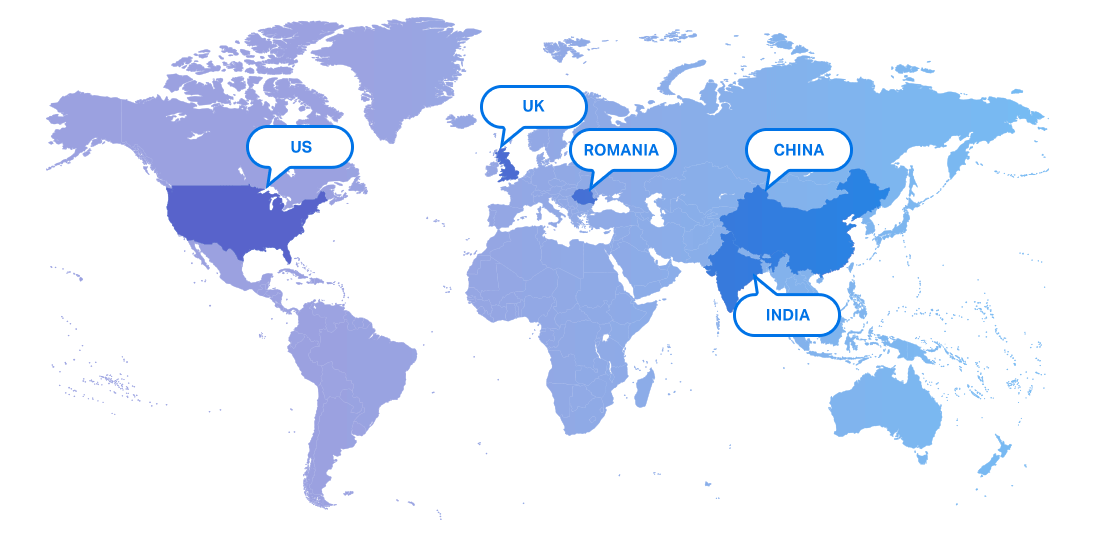 Micro Focus has offices in over 40 countries across the Americas, Asia Pacific, Europe, Middle East, and Africa. So, the right role with us is never too far from you.
Our Mission and Values
At Micro Focus, our mission is simple — by bridging the gap between existing and emerging technologies, we help organizations innovate faster, with less risk, in a world that's constantly changing. Everything we do is based on the idea that the quickest and safest way to get results is to build on what you have. And our software does just that.
Our software bridges the gap between existing and emerging technologies, but our people make this happen. We are committed to driving innovation and we value collaboration, partnership, and leadership. We promote teamwork, diversity, and integrity, and we honor our commitments to conduct business fairly and respectfully.
Corporate Responsibility
We work to integrate Corporate Social Responsibility considerations, especially those relating to social, ethical, health, safety and environment (HS&E) issues, in our day-to-day operations. We ensure the company conducts its activities responsibly and with proper regard for all its stakeholders, including employees, shareholders, business partners, suppliers, and local communities.
Community
Responsibility

The Micro Focus Charity Committee supports our corporate aim of making an active contribution towards the development of the community in which we are based. We accomplish this through company and employee participation in charitable causes. As an international company, we know how important it is for Micro Focus to make an impact in community development at multiple levels.

CSR in Action:

Annual budget for its employees to be used on a funds-matching basis.
Man-days per month to be used for activities which benefit a charity.
Local sponsorships of sports and music clubs and school teams.

Environmental
Responsibility

Micro Focus complies with all local environmental legislation. We have introduced a number of automated processes to reduce the quantity of paper and packaging used throughout our business. Employees are encouraged to think carefully before travelling and to use video conferencing facilities and other methods of communication in its place. Computer and other office equipment that has reached the end of its working life are resold, recycled, or donated to local organisations as appropriate.

CSR in Action:

Worldwide offices trained and working to reduce total energy consumption and the amount of waste generated.
ER program implemented to reduce both energy usage and the quantity of waste materials produced that cannot be recycled.

Ethical
Responsibility

Micro Focus manages its resources prudently to ensure appropriate investment is made in its research and development programs and its commercialization activities.

CSR in Action:

Up-to-date security systems for company's IT protection.
Appropriate trademark registration and patenting program.
Maintaining relationships with business partners, suppliers, and shareholders.
Code of Business Conduct and Ethics policy with which all staff are required to comply.

Social
Responsibility

Health & Safety

The Company has well-developed health and safety policies and procedures, safeguarding staff, contractors, and visitors and it complies with current legislation and best practice.

CSR in Action:

All security staff is trained with expertise in health and safety.
Process and procedures documented and ready.
Documentation and procedures for all incidents complete.

WorkPlace Equality

Micro Focus is committed to creating a diverse and inclusive workplace where our colleagues can be themselves, have equal opportunities, and can perform at their best.

We are proud to be an Equal Opportunity Employer. Prospective employees will receive consideration without discrimination because of race, colour, religion, creed, gender, national origin, age, disability, marital or veteran status, sexual orientation, genetic information, citizenship or any other legally protected status.

Since 2017, we've supported UK legislation to produce annual gender pay gap reporting and renewed our focus on Inclusion and Diversity hiring through multiple Employee Resource Groups.
Viewed jobs
Featured jobs
Saved jobs
Saved jobs
Sorry, you do not have any saved jobs.